Homeys mom was a hippie and right now she cant spend time with her beloved son because she is a fugitive.
Marges bossy mother. She, like her other 2 daughters, likes to mess in Marges life.
Marjorie "Marge" Simpson is a 34 years old woman, good wife and mother of 3. She is the thread that holds the family together. She is the most loving of the Simpsons and will always do her best to help anyone.
When Abe's wife abandoned them he had to decide whether to keep Homer or Herb. He picked homer and gave Herb on adoption.
Bartholomew J. Simpson is a 10 years old punk that loves to play pranks on others, especially on his sister, Lisa.
Snowball II (2)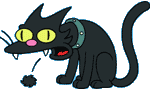 Snowball 2 is the Simpsons cat that came after Snowball 1 died.