Drew is a good husband, father of three and owner of his own restaurant.
Paige is a child from Drew's first marriage, but anyway Libby loves her as if she was her own child.
Cute and adorable Nick is Drew and Libby's youngest child.
Gina is Libby's sister as well and Becca and Corky's aunt and Zoe's mom.
Jesse is Becca's boyfriend. Sadly he has HIV, but Becca loves him anyway and at the end of the show they manage to get married.
Arnold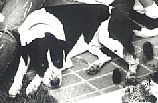 Friendly and loyal Arnold, loves to watch tv with Corky.