Tommy Pickles is a born leader and adventurer. He leads the other Rugrats on millions of imaginary adventures. He also sticks up for the Rugrats against other bullies, especially Angelica. Even though he is just a baby he is a pretty smart kid and loves science.
Lil is Phils twin sister. They frequently get into arguments, often using their actual names, Phillip and Lillian.
Angelica is Drew and Charlotte's spoiled-brat daughter who always bullies around the other Rugrats. Often using her doll, Cynthia, as accomplice, Angelica often gets away with everything.
Kimi is Chuckie's new sister and unlike her new big brother, Kimi is brave. Like Tommy she is a leader, but unluckily she often takes action first and thinks later.
Fluffy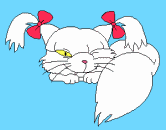 Fluffy is Angelicas mischievous cat.
Betty is Phil and Lils feminist mom, as well as Didis sister and Howies wife.
Chaz is Chuckies allergic father. He married Kira a while ago and became Kimi's father too. Chaz is Stus best friend.
Stu is Tommy and Dils father. He loves science and is a great dancer.
Charlotte is Angelicas bossy and sometimes grumpy mom.
Minka and Boris are Betty and Didis parents and Lil, Phil, Tommy and Dils grandparents.
Lulu is grandpa Lous new wife and the kids new grandma.
Shirley and Marvin Finster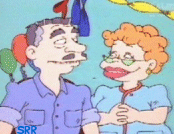 Shirley and Marvin are Chaz parents and Chuckies granparents.